Crawl space waterproofing in Hillsboro, Oregon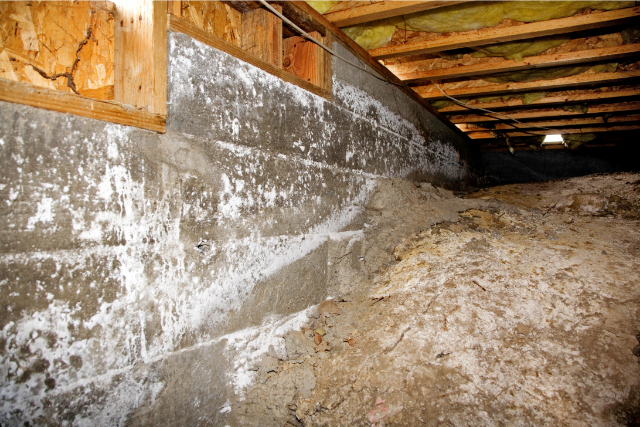 Many older houses in Hillsboro and surrounding Portland suburbs were built using designs that were cost effective but flawed overall. These building methods have left homes vulnerable to hazards that are dangerous and can make you ill.
A residence built with a crawl space as its base seemed like a great plan many years ago. Yet, many problems have come about in the years since. Such issues include rodents, pests, and mold that lead to allergies and significantly affect a human's nervous system. Much worse, a crawl space that is not maintained properly can produce poisonous gasses such as radon, an odorless gas that may cause lung cancer. 
If you are lucky, the problem will be limited to foul odors, a little bit of mold, and maybe a few mice running around. 
Most problems with crawl spaces begin and end with water and leaks. When water levels rise, it has the potential to leak into the residence. When it stagnates there, it creates mildew and mold, which decays the floor and gives pests a nice area to mate.
Another issue might lie in your flooring barrier. Plastic in itself will not solve radon, water, rodents and mold.
Now is the time to act before your crawl space develops a river or you and your family suffer health consequences. Our Hillsboro waterproofing experts can help with sealing and encapsulating your crawl space to keep you dry and safe.
Contact our family owned and operated company for a free estimate and affordable basement repair services near you.
Quality encapsulation and vapor barrier solutions
Don't be tricked into thinking plastic liners will work for crawl space encapsulation. Our safe seal vapor barrier and encapsulation solutions aid in reducing radon and combats other toxins. 
Plastic barriers can easily tear and the taped seams pull apart.  It is pretty much impossible to establish a complete seal thanks to the layout and construction materials used in crawl areas in homes. Liners may also trap moisture, dramatically increasing mold dramatically. Liners do not totally stop the problem of moisture and mold from growing on the surface below. In basic terms, plastic liners are a band-aid solution to what can be a huge problem. Likewise, burying the issue with gravel will not solve anything. 
In addition to health hazards, the support system of a home can be compromised by moisture, gas, vapors and creatures who infiltrate the space. Piers, beams, and floor joists may begin to decay and rot while floors become uneven and warp. These types of repairs can be very costly.
A vapor barrier is needed to protect the area. It seals ground contaminates that often come with an unfinished basement or crawl space.
Our team only uses modern and proven encapsulation methods to ensure quality for your home. It is vital to the integrity of your property that issues involved with your crawl space be addressed by a company like ours that is experienced and skilled.
Get in touch with us to learn more about our top-rated foundation and crawl space services.

Call us today at 503-809-8200